I am Writing Pink!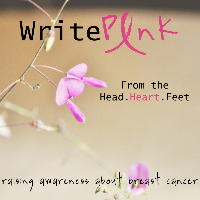 Trimming the fat, both out of your diet and off your body can do more than just decrease your waist size, it can also decrease your risks for breast cancer.
I've known for a while I need to get into shape, make exercise a norm in my life. But my reasons for wanting to live a healthier life style didn't include lowering my risk for breast cancer. I was one who thought I'd be safe since I don't have a family history of breast cancer. Through research for this article, I've learned that is very, very untrue.
Head on over to
Undercover Mother
for the rest of my story and read more about breast cancer prevention.